Book of the prophet Isaiah 14:21-32 – Marvel! Thus saith the LORD! "BIBLE FOR TODAY"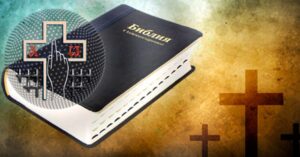 Book of the prophet Isaiah 14:21-32
21 Prepare slaughter for his sons because of the guilt of their fathers, lest they rise and possess the earth, and fill the face of the world with cities."
22 "I will rise up against them," declares the Lord of hosts, "and will cut off from Babylon name and remnant, descendants and posterity," declares the Lord.
23 "And I will make it a possession of the hedgehog, and pools of water, and I will sweep it with the broom of destruction," declares the Lord of hosts.
24 The Lord of hosts has sworn: "As I have planned, so shall it be, and as I have purposed, so shall it stand,
25 that I will break the Assyrian in my land, and on my mountains trample him underfoot; and his yoke shall depart from them, and his burden from their shoulder."
26 This is the purpose that is purposed concerning the whole earth, and this is the hand that is stretched out over all the nations.
27 For the Lord of hosts has purposed, and who will annul it? His hand is stretched out, and who will turn it back?
28 In the year that King Ahaz died came this oracle:
29 Rejoice not, O Philistia, all of you, that the rod that struck you is broken, for from the serpent's root will come forth an adder, and its fruit will be a flying fiery serpent.
30 And the firstborn of the poor will graze, and the needy lie down in safety; but I will kill your root with famine, and your remnant it will slay.
31 Wail, O gate; cry out, O city; melt in fear, O Philistia, all of you! For smoke comes out of the north, and there is no straggler in his ranks.
32 What will one answer the messengers of the nation? "The Lord has founded Zion, and in her the afflicted of his people find refuge."
Correspondence Bible school, prison ministry – IPCO Spiritual Freedom.
▶ PAGE FOR DONATIONS
▶ СТРАНИЦА ДЛЯ БЛАГОТВОРИТЕЛЕЙ (РУССКИЙ)
page-tags: prison ministry, evangelical Christian prison ministry, correspondence Bible school, Bible studies correspondence school, Bible study correspondence courses for free, Spiritual Freedom Ministries Russia about us, IPCO Spiritual Freedom, Evangelical Christians,
Book of the prophet Isaiah 1:1-9 – Marvel! Thus saith the LORD! "BIBLE FOR TODAY"
By sharing our content you help to fulfill The Great Commission.